Camping with hammocks is a wise choice made by many campers. Hammocks are available in variety of sizes and material. While buying a hammock one can choose from cotton, nylon, and a variety of fabrics. Learn how to choose your perfect hammock. Cotton hammocks are suitable for home use but while planning for camping; you should choose the nylon hammock. Nylon hammocks are more durable and provide protection from all weather conditions. Be it during the drizzles or the winter chills. Serac, Eno, Hennessey Hammock and Grand Trunk Hammock are some popular brands which provide you wide range of hammocks to choose from. Single nest hammock or a double nest hammock, ultra light or expeditionary, you name it and you get it easily in the market.
Cold weather camping involves carrying some extra gear that will enhance your camping experience by providing you extreme comfort and ease. Though one chooses to carry as light as possible but when camping in colder areas it is essential to take gear which you will need for your protection. While camping during winters it is imperative to choose your camp site wisely as it will help you to cut the wind thus saving you from cold chills. Some people prefer carrying tents as they believe hammocks cannot be trusted for colder areas. But believe it or not, camping and backpacking hammocks are always better than tents if you are a true nature lover and want to have the best out of your camping trip. These options mentioned below can add a tinge of comfort to augment your adventure experience.
Sleeping Bags
It's time to take out your sleeping bags out of that store. While on your light hammock, your sleeping bag can save you from the cold weather conditions. They are a popular insulation option and are always within budget to have one. However, the weight of the hanger compresses the insulation thus reducing the fullness of the material.
Sleep with a pad
Closed-cell foam pads are a cheap way to stay warm during a cold day in a hammock. A CCF pad as it is popularly known provides good wind block and does not compress when one lays on it. But one should consider the width of the pad while buying it. They should give you enough space to provide support to your shoulders and back. Also CCF pads are bulky to pack and thus can be an issue for those who wish to carry light.
These are very durable, lightweight and act as a great wind barrier when in a hammock. They hang just below your hammock with the support of shock cords and locks. They give the hanger enough space to relax comfortably without the tension of compressing the insulation as in a sleeping bag. Hennessey Super Shelter and Jacks R Better are famous under quilts brands. Under quilts are available in different sizes, shapes and colors. They are wind proof, light weight and thus easy to carry.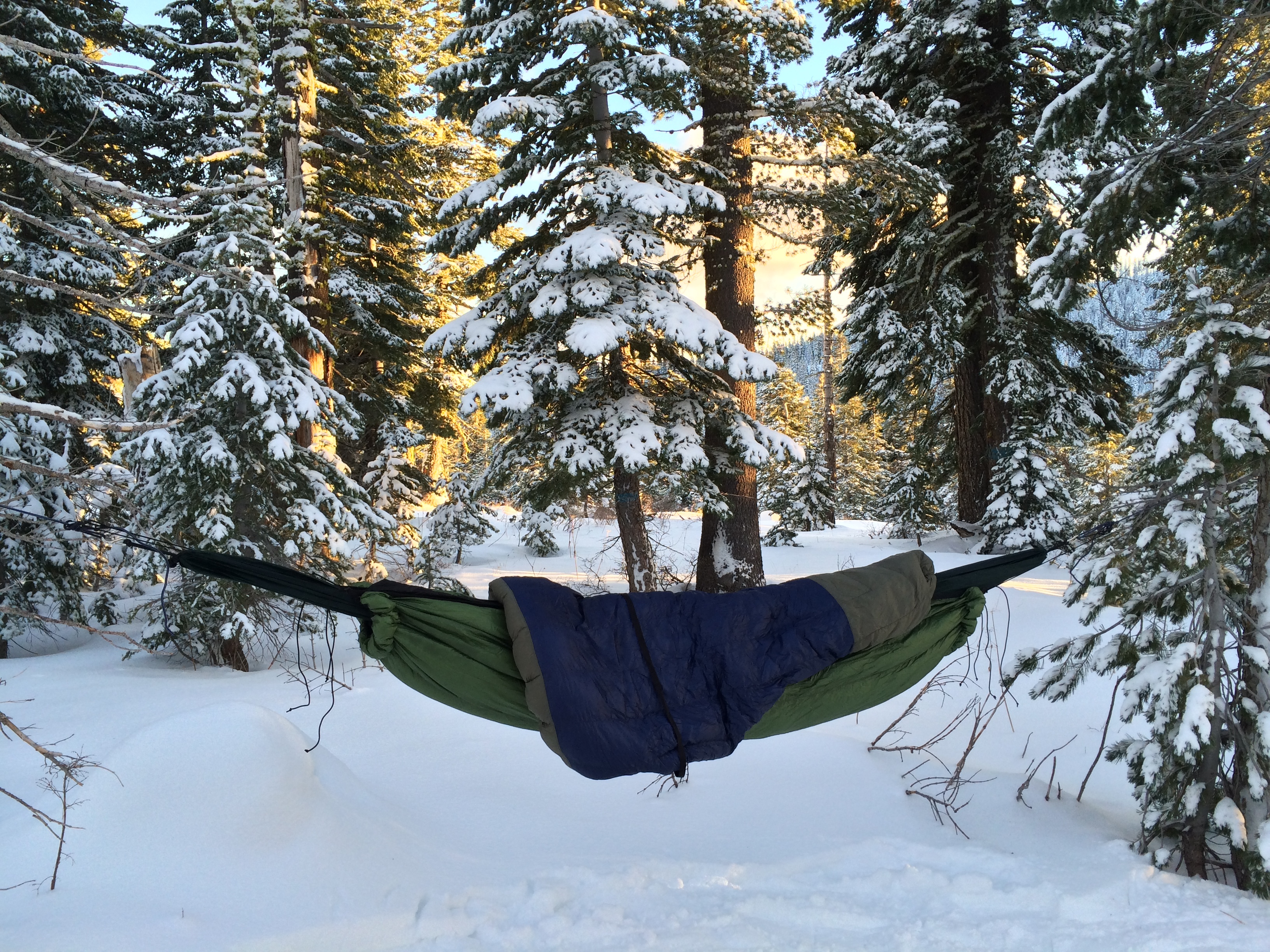 Over covers
Also known as top quilts, they are similar to under covers but with the difference that they come over the hammock and cover you from top. This helps to trap the heat inside the hammock and thus keeps you warm. But they can clam off in humid weather.
Inflatable pads
These pads provide a great deal of warmth and wind protection while in a hammock. It is easy to deflate and inflate them, available in different sizes even for large persons and is made from top notch camping gear material. They are easy to carry but one should always make sure to carry their repair kit too. You might not know when it could be of use.
Whatever way you choose to keep yourself warm in the cold days, the adventure must go on. Hammock bug nets and hammock tarps are some other essentials that you might want to carry to avoid any unwanted hindrances during your trip.